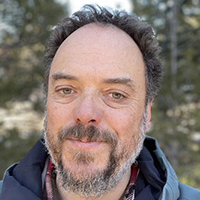 Troy R. Lovata, Ph.D. is a Professor of The University of New Mexico's Honors College and Affiliated Faculty in UNM's Department of American Studies. He was trained as an Anthropologist with a concentration in Archaeology (Ph.D. and M.A. from The University of Texas; B.A. from Colorado State University), but much of his work is interdisciplinary and has focused on the social role of material culture and cultural landscapes. Recent research and teaching includes: the examination of monuments and public displays from ancient megaliths to contemporary public art to Hispanic graffiti; the archaeology of trails and walking; the study of people and the sense of place in mountain landscapes; and the visual presentations of the past from comic books and zines to tourist attractions and archaeological hoaxes.
He has led research projects in the US Rocky Mountains and Great Plains and Ecuador; and has led study abroad and research courses in Ecuador, China, Egypt, Kazakhstan, and Spain. His writing includes numerous academic journal articles, contributed chapters, comics and zines, and the books Inauthentic Archaeologies: Public Uses and Abuses of the Past and, with Art Historian Elizabeth Olton, Understanding Graffiti: Multidisciplinary Studies from Prehistory to Present (both available from Routledge).
Research Interest: Landscape and Landscape Archaeology; Anthropology and Archaeology of Hispanics in New Mexico and the Rocky Mountain Region; Monuments and Public Art; Decansos; Arborglyphs, Graffiti, and Rock Art; Prehistoric, Historic, and Modern Trails and Walking; Mountain Environments, Landscapes, and Cultures; Archaeology Hoaxes and Re-creations; Material Culture Studies.